03-18-2014, 08:26 PM (This post was last modified: 09-10-2014, 10:05 PM by Thebobster4225.)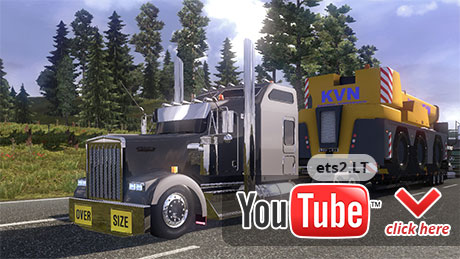 This mod includes the Kenworth W900l. The mod is very limited in terms of compatibility with the game. A test run with a
backed up
profile and should be remove if incompatible. This truck will be available to purchase from the Iveco truck dealers.
The mod can be downloaded from here:
http://ets2.lt/en/kenworth-w900l/
More information is available at:
https://www.youtube.com/watch?feature=pl...dH_FGm0cpc
This mod includes the following:
Realistic engine sounds
Rear guards and sun visor as optional accessories
beacon light accessories
Oversize sign accessory
Real CAT and CUMMINS engine options
Real Road ranger 18 speed option
(h-shifter only)
(Standard 12 speed for automatic)
Realistic interior
MUCH MORE!
Please note users have reported problems
"Game crashes constantly, what a pitty! It seems so beautifull,"
"Does This work on 1.3.0 it seems to crash my game"
"If you watch the video on you tube the description has a slightly lower res texture version for those people who aren't running the game on ultra its very stable"
"Instant crash. Same as all mods by Onixer. I love the truck and the Peterbilt as well. I just wish someone could make a stable one."
Attila's Forum has given this mod:
hearts
-Christopher Szotyori-
Mods, Info, & Reviews
Attila's Forums
Moderator